Jurassic World: Dominion Dominates Fandom Wikis - The Loop
Play Sound
The School
[
]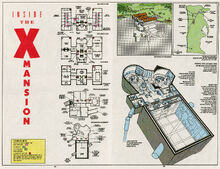 Xavier's School for Gifted Youngsters is located near the town of Salem Center, NY. Once the location of the Xavier family mansion, Charles had the original building remodeled and expanded to include boys' and girls' dormitories, and industrial sized kitchen and dining room, a gymnasium, an indoor pool, and various classrooms. At the same time, he had various sub-basements built, which contain a medical facility, the Danger Room, and mission planning areas. A long underground hallway leads to the hangar for a jet once one is purchased.
Several acres of land surround the school, and feature a lake, a boathouse, a basketball court, and a formal garden that includes a gazebo. The grounds are surrounded by a high fence, the front gate of which has an intercom.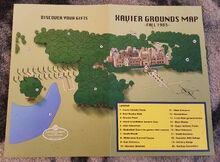 The school itself is open year round, though classes are held September through June and those students who have families are welcome to go home for the summer months. In summer, the school operates in a camp-like format, with various extra-curricular activities available for those who choose to participate (i.e. swimming, drama, arts and crafts, etc.) Training also takes place year round, split between early morning and late afternoon to accommodate both group and individual training sessions. After training, the Danger Room is available for students' use, but any sessions with a danger rating above low must be run in pairs or groups.
Room and board is included with tuition, and tuition waivers are available in the event of financial need. Students are expected to share rooms, but private rooms are available for special situations. Meals are served three times a day in the cafeteria, and a large self-serve kitchen is available 24 hours to meet the needs of students who need to eat more frequently - or who just feel like preparing something for themselves. Students using the kitchen are expected to clean up after themselves, and all students rotate in to clean up the dining room after meals.
Faculty and Staff
[
]
Professor Charles Xavier

[

]

Professor Xavier serves as the Headmaster of the Xavier's School for Gifted Youngsters. He also teaches History, Psychology and a mandatory ethics class, as well as working one on one with individual students on their mutant powers.

Dr. Moira MacTaggert

[

]

Dr. MacTaggert teaches classes in biology, anatomy, and mutant physiology. She maintains her primary laboratory on Muir Island in Scotland and normally teaches via Skype, but visits the school in person for about a week each month, during which students' labs are scheduled. She also serves as the school's doctor, and can be at the school in hours in the event of an emergency. Dr. MacTaggert is a no-nonsense, practical woman with a sarcastic streak and little patience for those who she feels aren't paying attention or taking things as seriously as they should.

Sharon Friedlander

[

]

A former ER nurse, Sharon deals with the school's less urgent medical needs and teaches a Health class which includes basic first aid. Sharon is approachable and friendly, and more than willing to serve as a confidant to the students.

Tom Corsi

[

]

A former police officer, Tom Corsi teaches gym, handles general school maintenance, and monitors the school's security systems. Tom's a down-to-earth sort of guy, is more than willing to talk with students, and enjoys tinkering with cars in his off hours.

Peter Corbeau

[

]

Dr. Corbeau is a multidisciplinary scientist, and teaches Chemistry, Physics, and Astrophysics. He also gives flight instruction via a simulator, and will be responsible for giving actual flying lessons in the future. He enjoys teaching like-minded students but is more aloof than most of the rest of the faculty, though he's greatly looking forward to giving flight lessons and keeping up whatever aircraft the Professor eventually purchases. He also has government contacts who are willing to share confidential information, which he reports to the Professor.

Stevie Hunter

[

]

Stevie operates a dance studio in Salem Center, but comes to the school twice a week to give dance lessons there as well. Stevie takes dance very seriously (she was once a professional dancer before a knee injury ended her career), and is easily wheedled into giving students rides to Salem Center.

Hank McCoy

[

]

Dr. Henry McCoy (call him Hank) is a renowned researcher in biological sciences - or was, until a genetics experiment went wrong, activating latent mutant abilities. He's now offered to take over Dr. MacTaggart's Biology class, freeing up some time in her research schedule - and in addition, will be putting his secondary undergraduate degree in English literature to good use teaching the Comm classes.

Emma Frost

[

]

Emma Frost was a teacher and Assistant Headmistress of the elite Massachusetts Academy. For reasons she's chosen not to reveal, she's accepted a position teaching math at Xavier's, and will be holding telepathic defense workshops. Emma is brash, sarcastic, and has little use for telepathic ethics.

Sean Cassidy

[

]

Sean Cassidy is Terry's father; a nice guy, personable and helpful, and extremely Irish. He's the new art teacher, and will also been helping out at the shooting range as an instructor focusing on gun safety as well as helping out any of the flyers.
At this time, several elective courses are being taught by Remote Learning while Professor Xavier attempts to find instructors. Any of the adults are willing to help students with their assignments should they have any questions.
Classes
[
]
Given the wide range of educational experiences, Xavier's education model operates on a sort of smorgasboard system, integrating graduation requirements, state guidelines, and realistic expectations.  Classes are held on the first floor of the main building in 45 minute blocks (double for science labs when Moira is in the US).
Classes that are taught by online/self-paced learning are still held in classrooms, because Xavier believes that the classroom environment is vital to education.  However, a classrooms is set aside for this purpose, and may at any time contain students studying languages or other electives.  While online course can be accessed from anywhere in the school, students are expected to attend "class" in the regular classroom at their designated time.
Only one session is held for each of the traditional classes, so if your student is taking Biology, he/she is taking it with all other Xavier's students studying Biology that year. The exception to this rule is PhyEd, which has three separate class periods.
Students with significant education gaps will have been scheduled with the lowest level class in each category to help them get up to speed.
Communications (4 credits required)
Basic Communications (remedial only, Dr. McCoy)
*HS Communications 1-4 (Dr. McCoy)
Math (3 credits required)
General Math (remedial only, Ms. Frost)
*Algebra (Ms. Frost)
*Geometry (Ms. Frost)
Algebra 2 (Ms. Frost)
Pre-Calculus (Ms. Frost)
Calculus (Ms. Frost)
PhyEd (4 credits required, includes individual powers training as appropriate)
*Health (Ms. Friedlander)
*Physical Education (1/2 credit each year, twice/week, Mr. Corsi)
*Powers training (1/2 credit each time taken, scheduled individually twice/week, included here even if powers aren't physical because where else? Can be repeated for credit, Various Faculty)
Basic hand to hand combat (Mr. Corsi)
Science (3 credits required)
General Science (remedial only, Dr. Corbeau)
*Biology (Dr. McCoy)
*Chemistry (Dr. Corbeau)
Physics (Dr. Corbeau)
Astrophysics (Dr. Corbeau)
Anatomy (Dr. MacTaggert)
Mutant Physiology (Dr. MacTaggert)
Social Sciences (3 credits required)
*World History (Prof. Xavier)
*US History (Prof. Xavier)
*Ethics (Prof. Xavier)
Psychology (Prof. Xavier)
Current Events (Prof. Xavier)
Electives (2 credits required)
Languages (online)
Computer Programming (online)
Beginning Dance (twice/week, Ms. Hunter)
Advanced Dance (twice/week, Ms. Hunter)
Art (Mr. Cassidy)
Other online electives available, see the Professor for information
*indicates class required for graduation
Rules
[
]
Students are expected to attend classes and training sessions. If a student is unable to attend, they should notify a faculty member.
The school is not known to house mutants, and students are expected to keep a low profile when off campus. Image inducers are available for students with physical mutations.
Students are expected to keep their own rooms clean, and to do their own laundry. Laundry facilities are available in each dorm.
Members of the opposite gender are not allowed in the dorms after 10:00 pm weekdays, or after midnight on Fridays and Saturdays. Exceptions are made for students working on group projects in the common study areas. (Note: This rule will not be enforced unless there are complaints from roommates or circumstances that require a faculty intervention or that would draw faculty attention.)
Cars are available for the use of students with drivers' licenses (see Tom if you're interested in driver's training). The keys must be checked out (also see Tom). Students who own their own vehicles may keep them in the garage as well.
Students leaving campus for any reason are expected to sign out with their destination and expected time of return.